Vapes, Pipes, Cigars, and Smoking Accessories
in Charles Town, WV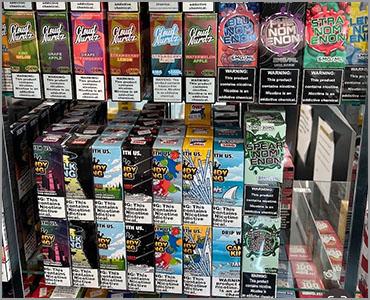 Our juices range from high flavor to high vapor production, and we know you will find the best juice for your vaping experience.
Everyone has different tastes when it comes to smoking. We carry a variety of brands and flavors for everyone.
We believe in self-expression, and we think that you will love our selection of unique pieces for you and your loved ones.
Charlies Too is the Area's One Stop Shop for Vaping and Smoking Needs
Stop in and see us, and let us help you find the right vape or cigar for you. We also provide alternative smoking options, including Kratom and CBD oils. Call Charlies Too today at (304) 724-1892 or stop in to discover all we have in store.
Charlies Too Offers E-Cigarettes and Full Tobacco Services for Patrons
Charlies Too has more than just vaping products. Our tobacco selection is one beyond compare. We offer a variety of brands for you to try, and roll your own products. Charlies Too also offers e-cigarettes, disposable e-cigarettes Delta 8-10, pipes, and other alternative smoking methods for you to enjoy. Looking to expand on your collection or to try something new? You will not be disappointed with the selection at Charlies Too.
Conveniently Located Near Hollywood Casino at Charles Town Races
Located less than a mile away from the Hollywood Casino, Charlies Too is in the perfect spot to get your cigars or other tobacco products ready for the races or casino. From cigars to pipes to novelties, we have it all. Stop in to see us at Charlies Too today, serving West Virginia, Virginia, and Maryland.
Disposable E-Cigarettes Retailer in Charles Town, WV
Charlies Too has everything for e-cigarettes. Our knowledgeable staff can help you get started with a variety of flavors and brands. Charlies Too stays up-to-date with the ever-changing world of disposable e-cigarettes. Check out our stock to see what we have for you.
Novelties, Smoking Products, and More
Visit Charlies Too for all smoking and vaping products. We feature popular supplies like vape mods, a wide selection of juices, and replacement coils. Specialty pipes we carry include dry and concentrated pipes and glass water pipes. We also sell novelties, including clothing, jewelry, games, and more. Visit our new t-shirt room. Our expert staff will help you find everything you need from smoking products to gifts.
Charlie's Too is the place to find vapes, pipes, cigars, and smoking accessories in Charles Town, WV.